Duration: From 2003 (Ongoing)
Funding Source: Maurice J. Terman Research Fund of the Geological Society of America Foundation
Project Summary / Brief Description
$100,000 GSA Fund was created by the late CCOP Honorary Advisor Maurice J. "Ric" Terman in 2003; contributions,particularly from commercial companies active in East Asia, will be well publicized. The Fund's assets may permit the continuing annual award of $5,000 plus travel funds to support the recipients travel to receive the award.
One-year Grants will fund PhD theses or Post-Doctoral research of East Asian scientists. Understanding that a Ph.D. degree is a multi-year effort, the intent is to finance the final year to complete a thesis of longer-term post-doctoral research effort, such that a tangible publishable final product results within a finite time after the award. However the receiving country has the option of forwarding applications for two $2,500 awards to complete the final year by two researchers for master's degrees, again with tangible publishable final products. The language of publication will follow the standard usage for these in the receiving country with an extended abstract in English.
EAGER is implemented annually as per a formal agreement between GSA International of the Geological Society of America (GSA) and the Coordinating Committee for Geoscience Programmes in East and Southeast Asia (CCOP).
Goals/Objectives
The purpose of the Fund is to promote and support The East Asia Geoscience and Environmental Research (EAGER) project that supports geoscience and environmental research in the member countries of the Coordinating Committee for Geoscience Programs in East and Southeast Asia (CCOP).
Scope
Open to all Ph.D. and Master students in CCOP Member Countries.
Outcome
Thirteen (13) recipients of this grant: Malaysia (2003), Japan (2004), China (2005), Korea (2006), Philippines (2007), Thailand (2009), Vietnam (2009), Indonesia (2010), Thailand (2011), Malaysia (2012), Japan (2013); China (2015) and Mongolia (2019).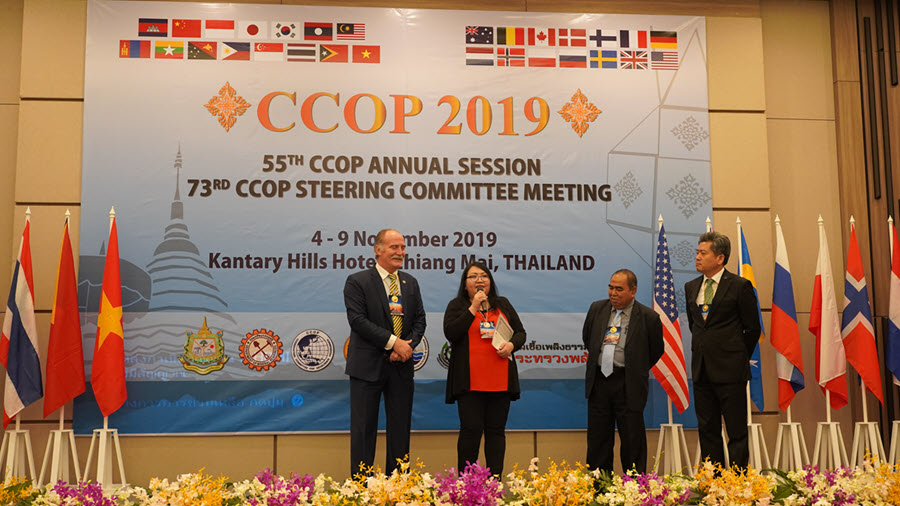 The 2019 EAGER Grant was awarded at the 55th CCOP Annual Session held in Chiangmai, Thailand, 4-9 November 2019. On behalf of the Geological Society of America (GSA), Mr Ioannis Abatzis, Chairperson of the CCOP Advisory Group, together with Datuk Shahar Effendi Abdullah Azizi, Chairperson of the CCOP Steering Committee and Dr Young Joo Lee, CCOPTS Director presented the EAGER Award in the form of USD 5,000 cheque and Certificates from GSA and CCOP to Mrs Sodnom Oyungerel, for her research proposal "The geological, geochemical and ore genesis studies of an ore field at the Tavt gold deposit in Northern Mongolia". Mrs Sodnom Oyungerel is a Ph.D. candidate from Mongolia studying in Seoul National University, Republic of Korea.